Como exportar un gato gatito desde España. Exportacion de gatitos, mascotas, pet air cargo, pet transport, flying with kitten, viajar con gato en avion
IF YOU COME OUTSIDE OF SPAIN AND ARE INTERESTED IN A KITTEN FROM OUR CATTERY, CONTACT US AND WE WILL ANSWER ALL YOUR QUESTIONS!
We live in MADRID (Spain) - The nearest airport is MADRID Adolfo Suarez BARAJAS (SPAIN)

AVAILABLE KITTENS GALLERY
EXPORT CONDITIONS
We sell kittens, to suitable, vetted, permanent, loving homes.
Every exported kitten will be under BREEDING & SHOWING quality and conditions.

Every exported kitten will have
* Distemper Shot vaccination x 2 (FVRCP) = Feline Viral Rhinotracheitis (FVR) and Feline Caliciviral Disease (FCV) + Feline Panleukopenia (FP)
* Rabies vaccination
* Chip identification
* Travel Pet Box (IATA)
* Kitten contract
* Documentation of parents (Health Certificates, Pedigrees)
* Pedigree ASFE FIFe and Transfer
* Health Official Certificate from the Distinguished Official Society of Veterinarians of Madrid (Spain) if needed to fly outside of Europe


THINGS TO DO FOR EXPORTING KITTENS
Requirements and Things to Do to export Cats from Spain to Worldwide
+ First select Tipo de animal (Type of animal) > Perros, gatos y hurones (Dogs, cats and ferrets)
+ Then select Pais de Destino (Destination country) and Click Buscar to find every document, requirement and things to do to fly from Spain to your country.

+ To Europe
Flying within the EU does not need any special requirements or document to fly (apart from passport, rabies vaccine and chip id).
England requires quarantine at destination airport.

+ To America, Asia, Australia

Embassy: Phone your Embassy to ask if the kitten have to pass some special exam or test, or wear any special document to enter the country, etc.

Customs: Before to contact an Air Company, you will have to phone or visit the Customs at the destination Airport. Ask every information about, shipping, conditions, required documents and special cost to remove the cat from the destination airport.
If this is possible and everything is OK for you, contact us to book the kitten you like. Available Kittens
Will you come to Spain or the kitten have be sent alone?
a) YES, I will personally pick the kitten in Madrid
We prefer not to send kittens alone by plane, The new owner should come to SPAIN (MADRID - Adolfo Suarez BARAJAS AIRPORT) to take the kitten and carry it in the plane cabine, if possible. You must confirm with the flight company that pets are allowed in the plane cabin. Its common to have restrictions of weight & size of the pet container. Our kittens will be Under 5 kilograms in rigid pet box (48x30x28 cm)
If not, should fly as cargo in the same plane, with the baggage and you will have your kitten at home witn nothing else needed.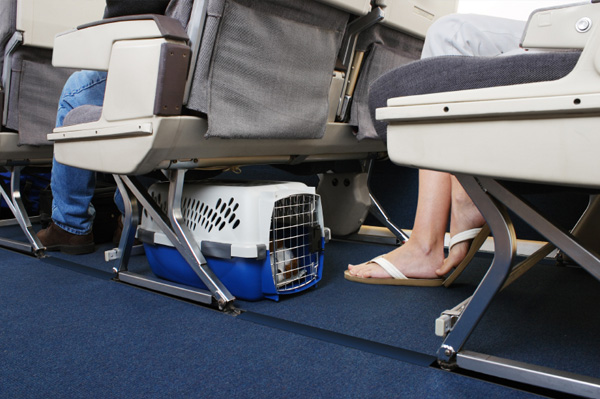 b) NO, I can't go to Madrid
f not possible to came to Spain, the buyer should search a company that sends life animals by plane in a safe way.
We only can leave kittens at Madrid Barajas Airport. This will have aditional expenses for the buyer. Special Air Cargo Pet box IATA aproved cost about 150 euros. Every travel or flights or customs / shipping cost will be payed by the buyer.
The kitten will have to fly in a rigid plastic pet box IATA requierements with metal parts.

Air Cargo Companys
If you are not able to come to Spain personally to pick the kitten with you in the plane, the kitten will have to fly as cargo.
When you contact an Air Cargo Company for information about sending the kitten abroad, you will be asked for type of animal and dimmensions & weight of the pet box, Departure and Destination airports:
Live animal - Kitten baby 4 months (domestic cat).
This air cargo companys ask for a special pet box IATA with metal parts.
Departure Airport: Madrid Barajas (Spain)
The cost of sending a kitten can vary depending of the destination country.
Shipping cost are only one part the price. There will be taxes, custums agent cost (the person who takes the kitten from the plane to your hand (and other expensives on your destination airport to be considered. You will have to phone your airport to ask for this information. These costs will multiply for each one of the kittens you need to send.
Finally. you will have to know that it is always cheaper for you to fly to Spain to pick the kitten personally. You can even fly with several kittens in the cabin or cargo and will not have to pay additional animal import / export taxes because they are considered as your pets.
PET TRANSPORT COMPANY BROWSER. Find a Pet shipper worldwide.
+ United Air Freight
Centro de Carga Aérea Madrid - Barajas. Edif. de Servicios Generales, Ofic. 618. 28042 Madrid
Contact: Phone +34 91 329 0515 email info@transportedeanimales.com
+ Iberia IAG Cargo
Contact: Phone + 34 901 111 400 email cgoccenter@iberia.es
+ Delta Cargo
Estimated shipping cost *only flight
Madrid Barajas -> Rio de Janeiro (Brasil) = 312 euros
Madrid Barajas -> Bogota (Colombia) = 312 euros
Madrid Barajas -> Mexico (Mexico) = 312 euros
Ask by email shipping cost to other countries (aduanas@deltacargosl.com)
+ NewPort Cargo Colombia, Chile, Peru
These companys will only put the kitten in the plane, fly and leave the kitten at the airport Customs Office.
Then other cost at destination airport will be added depending of other factors, such as special taxes, import expensives, custum agent, etc.
OBTAIN THE LAST DOCUMENT AT THE DEPARTURE AIRPORT
(Only for exported kittens outside of Europe)
If you have decided that we send you the kitten, we will manage this document for you.
If you have decided to fly personally with the kitten in cabine, the day before (or two before) the flight you will have to go the Customs Office of the Airport Barajas (Madrid) to validate the certificates and passport of the cat and obtain the Official Export Certificate to fly to your country.
I would not recommend to make this arrangement the same day of the flight to avoid unespected problems that could not be resolved in 2 hours and can make you to loose or delay your flight.
Passport must include information about Rabies vaccination, endo and ecto parasites treatments, microchip id and Signature of the Vet validating the good health of the kitten to fly.
At Barajas Airport you need to go to: